Testimonials
Cleaning Services Edgware has a special offer on upholstery cleaning so I thought I'd check...
Helga Hunter
My family left their luggage behind in one place and when they came back and collected it,...
Mark
I wanted my upholstered curtains and furniture cleaning to revamp the home. I had heard...
Teresa Henry
CleanersEdgware are a great company if you want professional cleaners for your home. I was...
Z. Lee
We stared thinking about hiring some extra help with keeping on top of the cleaning at my...
Annie
If you have ever tried to get wine stains out of upholstery you know what an impossible (and...
Brandy
If you want your kitchen cleaned professionally, all you have to do is call up...
Marty Huw
What is really great about CleanersEdgware is that they are a very local company, which has...
Denise Mayberry
Cleaning is something that I do not enjoy. Just the thought of cleaning makes me want to hide...
Carl F.
1
of 10

Keeping Your Home Clean If You Have Pets
04

Jul 2014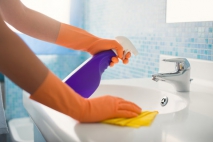 Having animals in your home can be fantastic, but it can also cause a lot of mess! Whether you have a dog, a cat or even a house rabbit, there are extra steps that you need to take if you have animals in your home and you want to keep it a clean and sanitary environment! Here are some helpful tips for you if you want to keep your home tidy and clean. 1) Invest in the right products to clean your home.There are some excellent products on the market that can help you to keep your home clean if you have animals. Pet stores are a great place to find items that can remove urine stains, lift pet hairs and refresh your carpets and upholstery. Try to avoid products that use harsh chemicals which might be harmful to your pet and instead opt for pet-friendly or eco-friendly alternatives to keep your furry-legged friends happy! 2) Invest in the right equipment to clean your home.Just like with cleaning products, there are lots of cleaning appliances on the market that are ideal for pet-owners. Vacuum cleaners that are specifically designed to lift pet hairs from the fibres of your carpet are a must-have if you have animals that shed a lot of fur, while you might also want to consider purchasing a carpet cleaner to thoroughly remove grime, dirt and bacteria that your pet might have brought into your home. 3) Keep your animals clean.It's important that you keep your animals clean as this will help to keep your home sanitary and as free from bacteria as possible. Bathe your animals regularly to ensure that they aren't going to be leaving muddy paw prints on your clean carpets! Use an antibacterial shampoo on your pet to keep their coats glossy and germ-free. 4) Groom your animals properly.Animals shed fur, but if you brush and cut your pet's fur regularly then you'll notice a dramatic decrease in the amount of fur that's lost. If your pet is shedding too much fur then consider speaking to a vet or using a medicated shampoo to help with the problem. 5) Keeping paw prints away.Your dog or cat might regularly leave wet or muddy paw prints in your home. Not only can this be very unsightly, but it can even cause bad odours if you have carpets! Try keeping a towel by your door so that you can dry your pet's paws before they come into the house. This will stop mud tracks and help to cut down on the spread of bacteria in your house. 6) Getting rid of stains.Whether they're food stains or mud stains, pets can leave marks on your furniture and carpets. Invest in a good stain removal product that isn't going to damage your home and use it whenever necessary. Use a bowl of lukewarm water and a sponge to dab at the stain before it's dry, apply the product and blot it away. Try to use a pet-friendly cleaning product for this, or for an eco-friendly alternative use a drop of either white vinegar or lemon juice in the mixture. Just make sure it's properly blotted away with clean water afterwards! Never use boiling water as this can help to set a stain and make it almost impossible to remove.